Deeper Connect Wi-Fi Adapter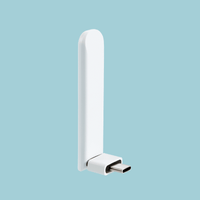 Deeper Connect Wi-Fi Adapter
Applicable to Deeper Connect Pico, Mini
Weight: 8.5 g
Dimensions: 9 × 1.7 × 0.6 cm
Interface: USB Type-C
Package: Weight 37 g
Dimensions: 12 × 4.7 × 2.1 cm


FREE SHIPPING on orders over $99 | Limited Time offer
1-Year limited warranty.
14-day return or exchange guarantee.
Orders are eligible for same-business-day cancellation.
Custom duties are to be paid by the recipient. Duties levied differ across regions.
This product ships to every country (except Mainland China).

*Return,Cancellation and Warranty Policy.
Please keep an accurate personal record of the official order information as our customer service team needs to authenticate the order information in order to provide better after-sales service, including tech support, warranty and/ or replacement.
Deeper Connect Pico + Wi-Fi Adapter
Max Bandwidth 100Mbps
CPU Quad-Core
Memory 512MB
Power Consumption 1W
Buy Now